I don't know what is happening with professional tennis but if you have been watching the Australian Open this year, you'd know exactly what I'm talking about. While the Australian Open continues without fans due to a national lockdown to prevent the spread of COVID-19 the lack of noise and commotion adds more camera time on the players. You really don't need to be a tennis fan to be interested in the sport.
The number one seed, Novak Djokovic, looks good. His Lacoste apparel will appeal to those who like the preppy look.
What can I say about Rafael Nadal other than he is amazing?!? Despite being "ancient" by tennis standards at the age of 34 he is ranked second in the world. If he wins the Australian Open he will have 21 Grand Slam Titles to Federer's 20 Grand Slam Titles.
Dominic Thiem is ranked number three in the world. But I've commented more about Dominic Thiem's ass in 2017 and again in 2020 here than I have about his game. But don't be decieved by his booty. He has game for days.
The Greek a.k.a. Stefanos Tsitsipas is one of my favorite players on the circuit. The 22 year old is ranked six in the world and is equally exceptional in talent and looks. I first wrote about him last fall here, The handsome Stefanos Tsitsipas.
If you don't follow tennis you may not know who Alexander Zverev is, but the 23 year old German is ranked seven in the world. He has yet to win a major but is a threat to anyone on the court.
Be still my beating heart whenever Matteo Berrettini steps on court. The 6'5″ Italian from Rome is the number ten player in the world, and I am smitten. This photo of his abs and see-through shorts, swiped from Kenneth in the 212 pretty much says it all.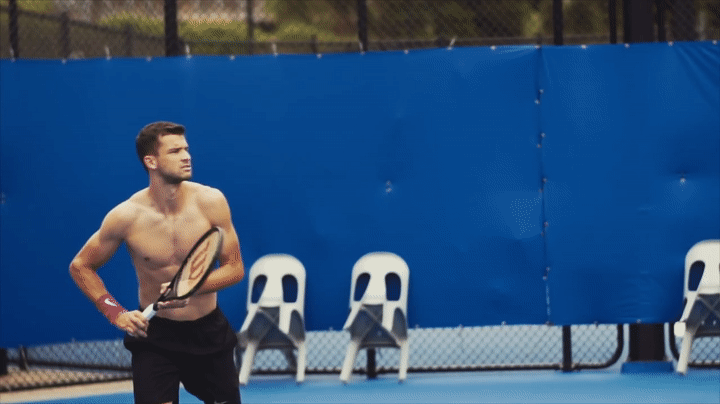 I first wrote about Grigor Dimitrov in 2011. He looks like such a baby in this photo, but the Bulgarian is an excellent hard court player. The twenty-first ranked player in the world is so easy on the eyes you might find yourself distracted by his looks but he has game.
Fabio Fognini is another talented Italian who's fiery personality on and off the court can make him get all sort of attention. Fognini loves attention and he certainly got mine when he posed nude for Cosompolitan Magazine. Let's see how far this 30-something player can go. I'll be cheering for him.